Batrachomoeus trispinosus
Photograph of the 16/02
Classify:
Actynopterggii.
Subclass: Order:
Batrachoidiformes
Under order: Family:
Batrachoididae
Subfamily: Kind: Species: Etymology: Descriptor:
Gûnther, 1861.
Synonym (S) or Name (S) common (S):
Halophryne trispinosus (Sci), Batrachomoeus broadbenti (Sci), Three-spined frogfish (Ang).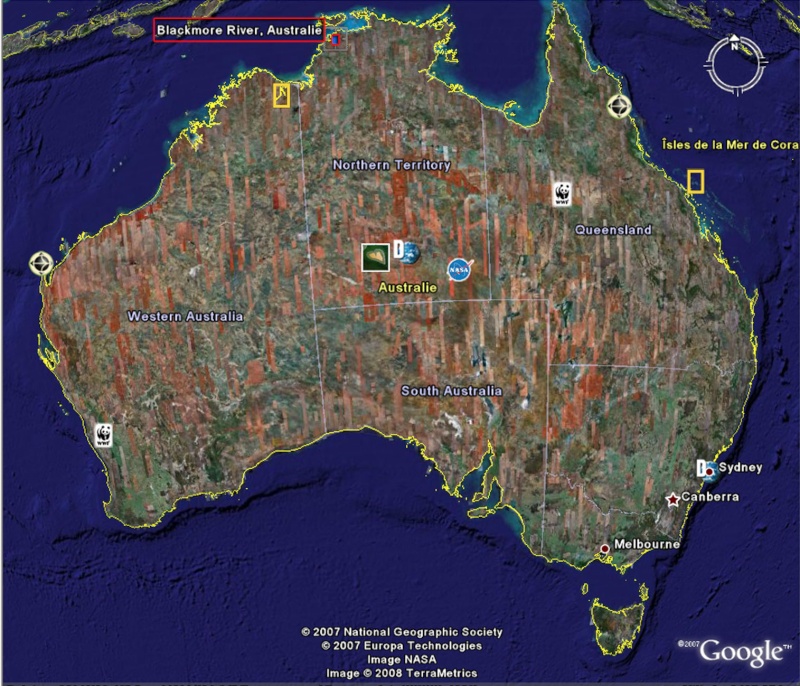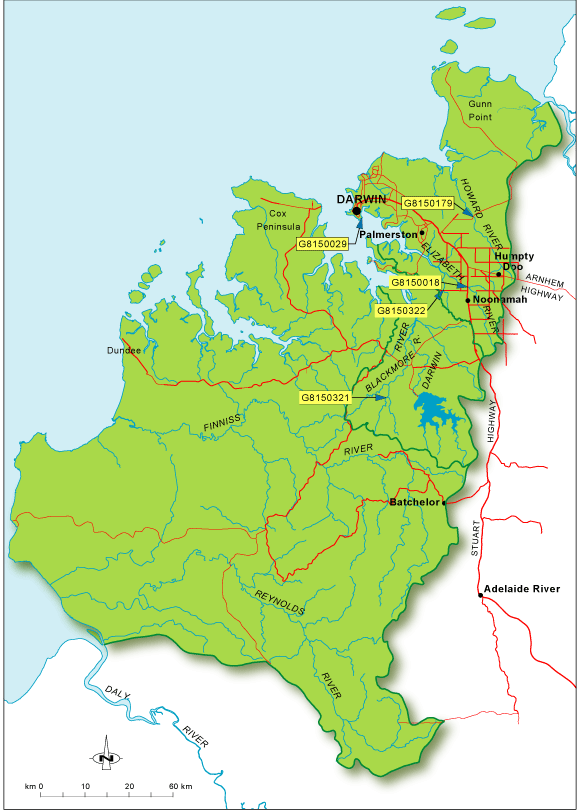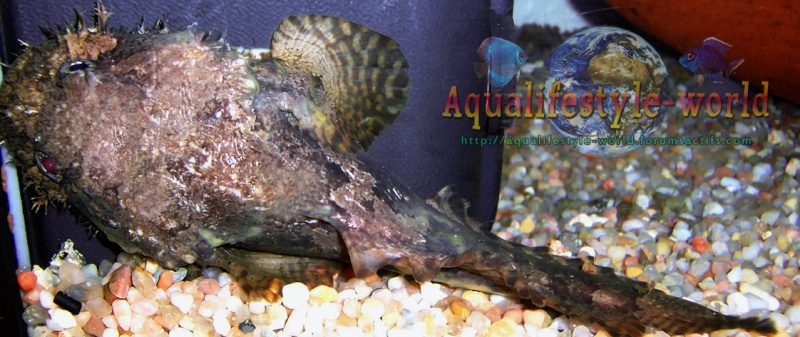 Photograph of the 27/01
Origin:
Southeast Asia and of Indonesia in Australia .
Maximum size:
the record is of 48 cm fished in the river Blackmore River in Australia 2/16/1991 via google Earth (12°40' 27.88 " S 130°58' 0.54 " E but one counts approximately 30 cm intermediate size
Weight:
only for large fish.
Life expectancy:Temperature and pH:
Min: 22° max: 25°
PH:
7,2 to 8,0 (
GH:
10 to 15)
Conductivity:Description:
The principal mode of swimming is subcarangiform.
allenbatrachus grunniens
envoy by tyrano34
allenbatrachus grunniens
envoy by tyrano34
Its eyes are on the top of its head with a large mouth, fleshy lips thick.
Its mouth has many blunted and curved teeth.
It has two dorsal fins, the first located on the cover * consists of 2 or 3 spines, this one are connected to glands of venom.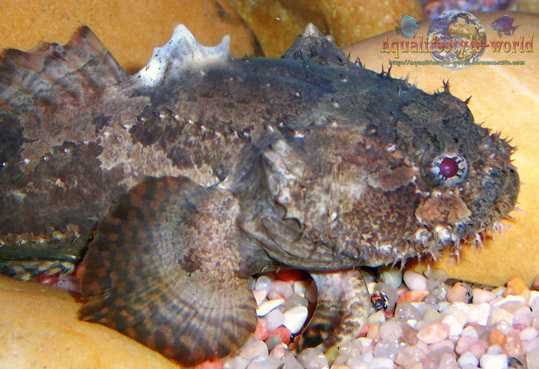 Photograph of the 16/02
* In biology, the cover is part of the body which is used as lid, plates osseous which closes hearing. This bone is often finished by one to three spines directed towards the back in the most advanced fish.
The second dorsal fins is made up of a great number of soft rays, the pelvic fins are in the shape of oar, I have to observe his behavior it often uses to be rectified like probing the bottom, its Fins pectoral are large and cylindrical, with 1 spine and 2 or 3 soft rays. A squat body covered with thorny scales this one of dull color chestnut and small black spots.
photograph of the 10/02
Anatomy:
Halophryne trispinosus has poisonous spines; two fronts the first dorsal fin and direct it behind since each cover.
Behaviour :
a primarily night voracious fish.
allenbatrachus grunniens
sent by tyrano34.
Nutrition:
They are the predatory ones with ambush, it does not move of cm nor even its eyes, it fixes, it waits until the fish either with its carried and in a fraction of a second it gober I will have to like to show you a film to assemble yourselves his power but it are not as we it does not eat fixed hour, they nourish fish and invertebrates. Ci below: afflicted for that which loves red fish
Like shows it video, only the evening the meal…
Food of the larvae:Dimorphism :
?
Reproduction :
?
Bond of the Forum on the reproduction of fish: Difficulty: The Council for the aquariophilie:
They can bite during handling, and attention with its poisonous fins, a malicious puncture.
A minimum vat of 150 liters with full with hiding-place so that it can rest the day.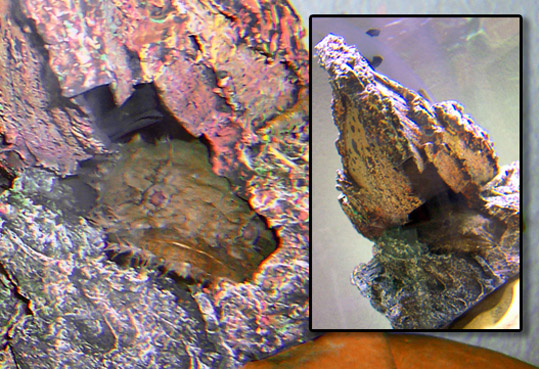 Volume minimal of the aquarium and advised:
Population density: The Council for the fisherman:
He does not like too the company of his species and prefers the aquarium specific (if not he will eat all your fish even if they are larger than him!). It is a fish, which could acclimatize itself out of fresh water and brackish water.
https://www.dailymotion.com/tyrano34/video/7380190.
Various:
Certain species are consumed in Venezuela and in French Guiana and can go to seek in rather high prices, it exists three fresh water species of Thalassophryninae in South America.
Information: The cards of the fish may be by supplementing an experiment of the subject, or a comment misses concerning information on this card
.