Mastacembelus Erythrotaenia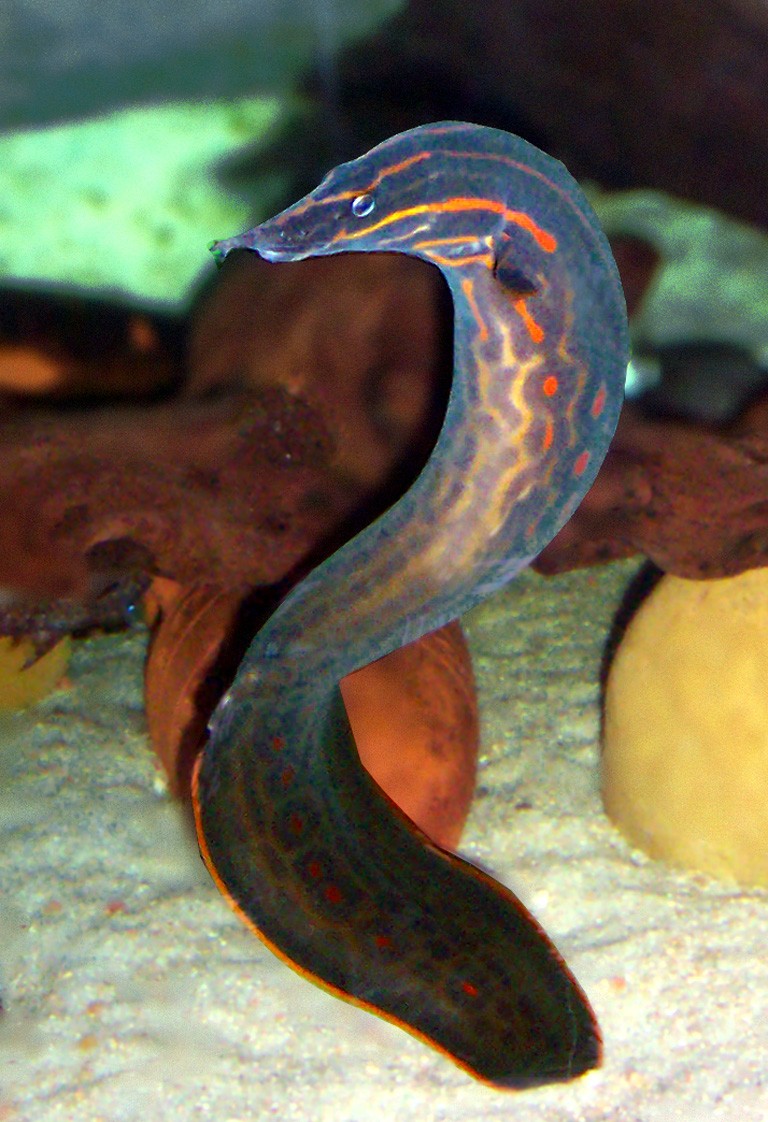 Photograph of Admin.
Classify:
Actinopterygii.
Order:
Synbranchiformes.
Family:
Mastacembélidés.
Synonym (S) or Name (S) common (S):
Mastacembelus Erythrotaenia (sci), fire eel (ang), Eel of fire (FRA), กะทิงไฟ (Thai).
Maximum size:
100 cm, 51cm in captivity.
Old and Weight:
10 years/1 maximum kg.
Origin:
Indonesia, Vietnam, Thailand, Burma, Laos, Kampuchea, one finds it very present in the rivers and the Mekong river.
http://www.vodeo.tv/2-62-4842-au-fil-du-mekong.html?PARTID=9085&visu=4842.
chart of the Mekong river and discovered that Ci: https://www.youtube.com/watch?v=YnvFCAsPGnA&feature=related.
In Thailand the eel of fire starts to disappear from certain rivers due to pollution, the river bang pakong is an example (google earth to copy coordinated following the 13°35' 28.41 " NR 101° 4 ' 11.27 " E, small a video to make you discover the place: https://www.dailymotion.com/video/x1xbnk_bangpakong-river_travel. .
Photograph of Admin.
Zone of life:
At the bottom of the calm Rivers and lakes often buried under mud.
Temperature and pH:
24 °C with 28 °C/6.5 to 7.5 pH
Description:
Mastacembelus Erythrothaenia is not a genuine eel, order of oval Synbranchiformes fish of longiforme type with a log muzzle, the back and the sides are gray dark green strewn by trailed colors, yellow lines extends from the point of the muzzle, through the eye, and to the back of fish (see the photograph with the top).
Usually several edge lines of colour bright red and the oval spots mark the body. Those vary in intensity according to the age, as we can observe the yellow varies on red, the diagram of colour varies according to the fishing zones.
https://www.dailymotion.com/tyrano34/video/6772592.
Small video of my masta .
Nutrition:
Night predator.
They are very intelligent and they quickly will learn how to recognize you and they will easily eat food in your hand, ground worms, moulds, shrimps and sometimes of small fish…
Behaviour:
The young specimens are relatively peaceful, but oldest the ones towards the others are more aggressive.
Dimorphism:
on standby of confirmation of friends inhabitant of Thailand
Reproduction:
It is rare and very difficult to make reproduction, a large aquarium with a pH around 7,0, a water hardness of 10-15 dH, and a temperature of 27-29 ° C as well as floating plants for the laying, the eggs from 800 to 1200 measure approximately 1mm in order to improve of it the result I would insulate the plants in another vat, the young people eats all the time and very quickly grows attention not to overfeed them.
The Council for the aquariophilie:
Attention with the plants, it will be made a pleasure of tearing off them to you.It will be necessary to pay great attention during a handling difficult to hold it in hand because its backbones make very badly, choose rather a scoop with large mesh and deep because this one and excellent climbing and jumping. The aquarium must have a sand substrate not more than 2,5 cm of depth so not they will disappear because of their great effectiveness of digger. It is also recommended to avoid the pointed objects owing to the fact that their skin is so fragile just as the infections with mushrooms.
Photograph of Admin.
On this photography you can note a nasty wound on the level of the head because of a cutting decoration, if you encounter a similar case think of isolated as well as a good oxygenation and a good food, to trap the bottom all weeks and process has a regular water change.
They are expert as regards escape; therefore ensure you that the lid of the aquarium is always well closed.
She prefers tubes out of ground or out of plastic for this slipping inside, me I stuck two large amphora in order to offer a peace of movement attention to him never not to use pots of flowers because the small holes of evacuation will be traps mortals.
Various:
For the anglers Eel, Fire.
Trap with eel in Burma "Myanmar"
https://www.youtube.com/watch?v=37MfT5zcjQs
(google earth to copy the coordinated following ones: 21°58' 5.16 " NR 96° 4 ' 5.88 " E)
Information: the cards of the fish may be by supplementing an experiment of the subject, or a comment misses concerning information on this card.