Nomorhamphus liemi
Photograph of Dep (male).
Order:
Beloniformes.
Family:
Hemiramphidés.
Kind:
Nomorhamphus.
Species:
liemi.
Synonym (S) or Name (S) common (S):
Nomorhamphus liemi (sci),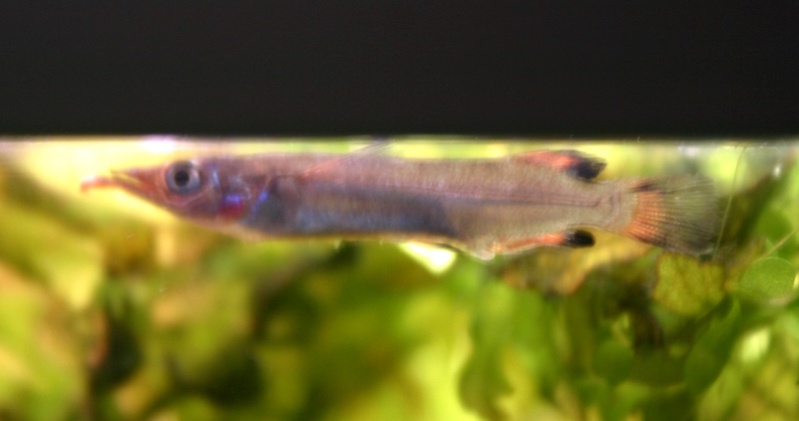 Maximum size:
male: 6 cm; female: 8 to 9 cm
Origin:
Celebes, Indonesia.
Zone of life:
Surface, fast and clear rivers.
Temperature and PH:
20 ° -28 ° and
pH ranging
between - pH 7 - 7.5 –
GH
: 5 – 12.
Description:
Sympathetic nerve fish of surface; to make cohabit with calm and peaceful fish. To cover the aquarium well because it is an excellent jumper.
This distinguishes by its fleshy outgrowth at the edge of its mouth.
Nutrition :
Insectivorous in natural environment but omnivorous out of aquarium.
Anatomy
:
1

2

3

4Photograph 1.2.3 pygo aquariophilie28 & Photograph 4 of hwchoyBehaviour: Peaceful but to avoid putting them with other fish of surface Lives in small group or couple but better is worth to put more females than of male.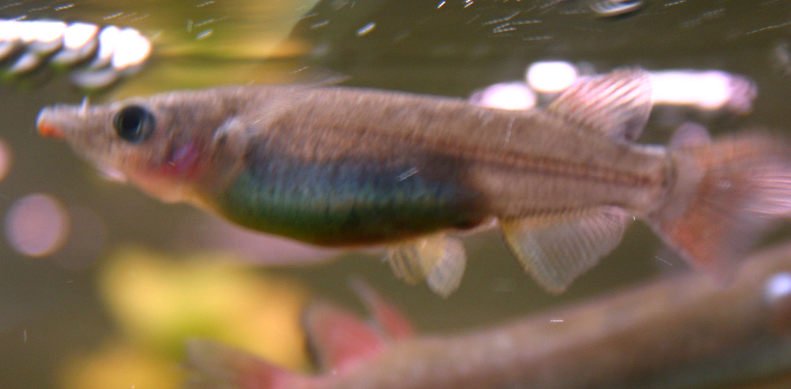 Photograph of Dep (female right before the laying).
Photograph of Dep.
Dimorphism:
Male increasingly smaller, its anal fin is transformed into body of copulation (Andropode). It presents on the jaw lower a black and thick flesh-coloured appendix whereas it is smaller, red or colourless in the female.
Photograph of Hwchoy.
Reproduction:
The females give birth, all the 30 to 60 days, with some alevins (often less than 10). Those are very large (2 cm) and must be protected from the voracity of their parents. A filtration of 2 times the volume of the vat per hour is necessary.
The Council for the aquariophilie :
to maintain in a minimum vat of 80L.
Various:
Nomorhamphus liemi, is called half-beaks because of the fleshy outgrowth which decorates their jaw lower. According to the opinion of certain specialists, this black short period of lip would imitate, at Nomorhamphus liemi, brushwood, incentive the insects, its favourite preys, to be posed above.
Out of aquarium, this fish accepts all kinds of food, of which the food in spangles. The relations between congeneric are excellent, but one should not introduce too small companions to them, who could be confused with food.
Information: the cards of fish may be by supplementing an experiment of the subject, or a comment misses concerning information on this card.Conseil pour l'aquariophilie :
à maintenir dans un bac de 80L minimum
.
Divers :
Nomorhamphus liemi, est appelés demi-becs en raison de l'excroissance charnue qui orne leur mâchoire inférieure. Selon l'avis de certains spécialistes, ce petit bout de lèvre noir imiterait, chez Nomorhamphus liemi, une brindille, incitant les insectes, ses proies favorites, à se poser dessus.
En aquarium, ce poisson accepte toutes sortes de nourriture, dont les aliments en paillettes.
Les relations entre congénères sont excellentes, mais il ne faut pas leur présenter des compagnons trop petits, qui pourraient être confondus avec de la nourriture.

Information : les fiches des poissons peuvent être compléter par une experience du sujet , ou d'un commentaire concernant un manque d'information sur cette fiche.