Periophthalmodon Septemradiatus
Photograph aqualifestyle34 (animalery delbard).
Order:
Perciformes
Family:
Gobiidés
Kind: Species:Synonym (S) or Name (S) common (S):
Gobius septemradiatus, Gobius tredecemradiatus, Periophthalmodon tredecemradiatus, Periophthalmus borneensis, mud skipper (ang).

Photograph aqualifestyle34.
Maximum size:
10 to 12 cm.
Origin:
India, Myanmar, Thailand, Sarawak, Indonesia.
Zone of life:
Mangrove, bench of mud covered by the vegetation.
Temperature and pH:
22° - 30° and
PH ranging
between 6.8 - 7.5.
Photograph aqualifestyle34.
Description:
Globulous eyes, has a double dorsal fin, the pectoral ones are highly developed in order to facilitate displacement on the ground. The body is of color brown on the side, white with brown on the back and the belly strewn with bluish points and dark marks on the back.
Nutrition:
carnivore.
Anatomy:
have an upper jaw with 2 lines of teeth whose second line is hidden under the mucous membranes. Ventral fin out of succion cup

Photograph aqualifestyle34.
Behaviour:
This species can live in fresh water or salted. It spends most clearly its time out of water and can thanks to its caudal fin make jumps on water surface.
Dimorphism:
The male has a very developed dorsal, certain rare male specimens are bluish.
Reproduction:
unknown factor.
The Council for the aquariophilie
: Not to leave the vat open considering its tendency to this walking out of water and envisaging a large vat because they are species very territorial.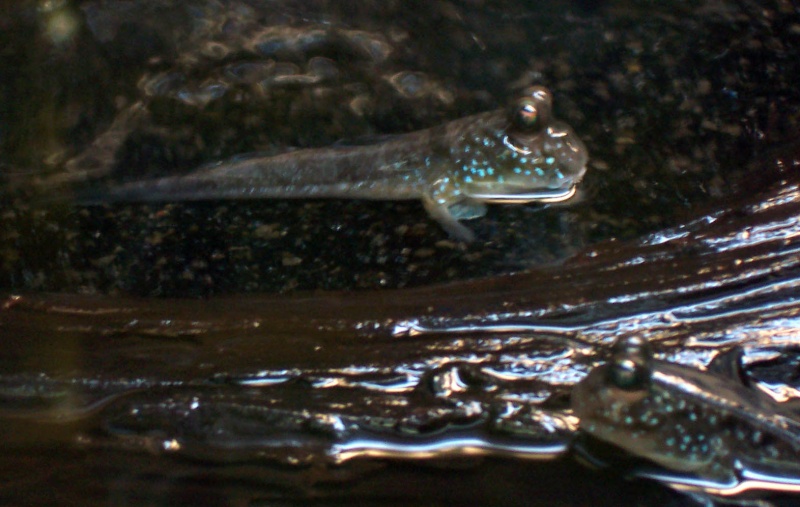 Photograph aqualifestyle34.
Various:
It is one of the rare specimens which when it is in danger saves towards the banks rather than in water.
Information : the cards of the fish may be by supplementing an experiment of the subject, or a comment misses concerning information on this card.
Published and supplemented by Carter.