Stigmatogobius Sadanundio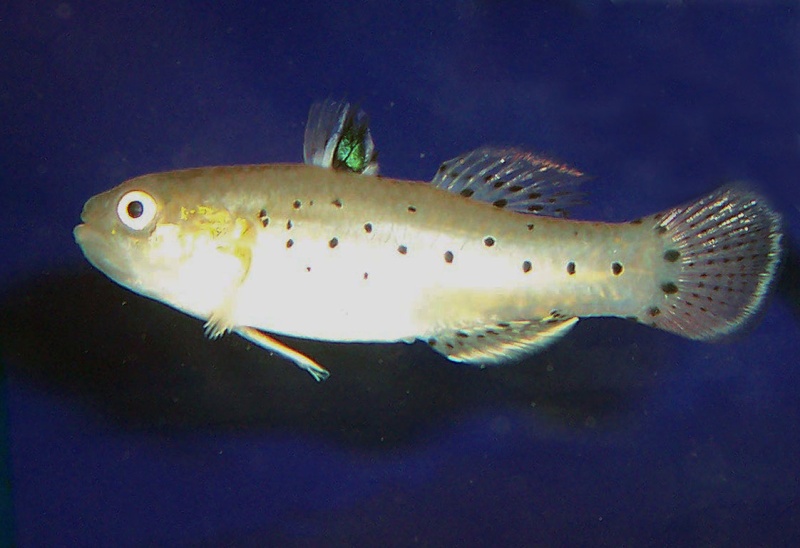 Photograph aqualifestyle34 (animalerie balaruc)
Order:
Perciforme
Family:
Gobiidés
Kind:
Actinopterygien
Species:
Synonym (S) or Name (S) common (S):
Gobius apogonius (Sci), Gobius sadanundio (Sci), mottled Gobie (FRA), Gefleckte Grundel (Al), Rittergrundel (Al)
Maximum size:
Male: 8.0 cm, Female: 6.0 cm
Origin:
Asia: India, Sri Lanka, Indonesia, the Andamans islands towards Singapore
Zone of life:
Medium and bottom
Temperature and pH:
20° -30 °et pH ranging between 6.7 - 8 (Gh 9 - 30)
photographs of Blenny http://www.aquaticquotient.com
Description:
Pearly white gray Poisson moucheté from 3 to 4 series of more or less aligned black spots being prolonged on the caudal and dorsal fin. He presents a high and right backbone of a colour blue and black.
Nutrition:
Insects and larvae of mosquitos, small fish and invertebrates. He is accustomed easily to dried food
Anatomy:
nothing
Behaviour:
Very social and peaceful with of the same fish cuts to see larger. It develops a predatory instinct with the specimens smaller than him. He prefers food in couple. This fish becomes territorial in period of abrasion
Dimorphism:
The female is smaller and yellow. It is also different by a more pointed head.
Reproduction:
It reproduces out of brackish water, in the estuaries and zones of the tides. A pH with 8, Gh with 20 and one temperature with 24 ° are the parameters idéals for this reproduction, out of aquarium. The female lays in caves (a half coconut can make the deal). The eggs (up to 1000) are fixed by filaments. The couple supervises the nest.
Food of the larvae:
the alevins accept the nauplies artémias.
The Council for the aquariophilie
: One 100 litres minimum for a couple is ideal. The aquarium must offer a large surface on the ground which will be soft and sandy. Many plants supporting brackish water will be the welcomes.
Various:
The opinions are divergent as for the maintenance of this fish, some clâme the brackish one of others the fresh water. They are on the other hand all of agreement on the brackish water reproduction. It thus seems obvious to me to maintain those into brackish because the aclimatisation is easier in this direction than in the other, to see impossible in the other direction. But this is only one personal opinion.
Published and supplemented by Carter.